---
Mr. North has served in a variety of roles during his career, including as chief geotechnical engineer, geotechnical engineer of record, senior engineer, and senior geotechnical reviewer on numerous projects throughout the United States.  His resume includes a variety of private sector, as well as federal, state, and local government projects located in New Mexico, Arizona, Colorado, Washington, California, Texas, and Massachusetts.  Many of the projects have received regional and national attention and some have received industry awards.
Notable projects include:
NorthGES was hired by the Contractor to analyze and design the excavation support for the widening of all four abutment corners of this existing bridge.  The design and construction of the soil nail walls was complicated by the in-place mat soil reinforcing that supported the existing MSE walls.  Other obstacles that had to be overcome involved placement of the soil nails so as not to impact the existing MSE abutment walls to remain and avoidance of the existing pipe pile deep foundations supporting the active structure.  NorthGES won the 2019 Small Firm Engineering Excellence Award from ACEC New Mexico and also received a National Recognition Award from ACEC National for its project design work.
NorthGES was hired in late Summer to design and permit the repair of the dam.  The fast-track scope of services involved preparing the construction drawings and specifications as well as acquiring all permits from Federal, State, and Local agencies.  Prior to the onset of Winter, the crest of the dam at the primary spillway was lowered, widened, and revetted, which reduced the storage capacity of the dam to below the jurisdictional threshold.  The following Spring, the Washington Dam Safety Official (DSO) determined that the work performed successfully removed the dam from its jurisdictional authority.
NorthGES was hired by the Civil Engineer to perform the geotechnical evaluation for the project and provide recommendations for the design and construction of an improved storm drain collection and detention system to reduce the potential for future flooding in this area of Grants.  The project involves a relatively level area that has historically poor drainage and is situated between the confluence of the Rio San Jose and the Lobo Canyon Drainage Channel.
Photos courtesy of AUI, Inc.
Mr. North was the Chief Geotechnical Engineer and Geotechnical Engineer of Record on this highly successful design-build project that received 2017 regional and national awards from Association of General Contractors (AGC) and American Council of Engineering Companies (ACEC). 
As Senior Geotechnical Engineer responsible for evaluating reclamation alternatives at the abandoned Legal Tender Mine site in Silver City, NM.  Mr. North's role included mine site characterization that involved mapping and evaluating geologic hazards and developing a qualitative risk ranking system to classify hazards including:
Innovative use of 3D LIDAR technology enabled the team to identify hazards, recommend solutions, and inform the NM Abandon Mine Lines and public of these concerns.
Photos courtesy of Los Alamos National Laboratory
Mr. North was the Geotechnical Engineer of Record for the 30%-level investigation of this design-build nuclear facility as part of the overall CMRR project (see description of companion CMRR project presented later on this page).  Subsequently, Mr. North supported LANL's supplemental geotechnical investigation to confirm foundation-bearing conditions for the proposed design.  Both studies aligned with an NQA-1 quality program and were overseen by the Defense Nuclear Facilities Safety Board (DNFSB).    
Mr. North served as senior project engineer for geotechnical investigation and design services, including analysis and design for bridge and retaining wall elements of the I-25 Corridor and the project-wide vibration monitoring program.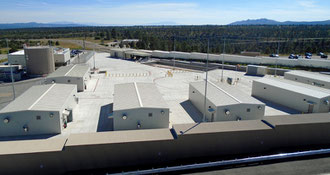 Mr. North was the Chief Geotechnical Engineer and Geotechnical Engineer of Record on this nuclear waste-handling project.  Performed under an NQA-1 program, this project received 2017 regional awards from ACEC.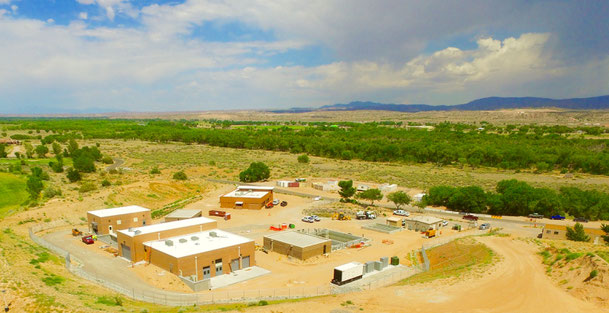 Mr. North performed the seismic and geologic hazards evaluation for this project near the Rio Grande.  The work included development of the seismic design criteria, estimate of Peak Ground Acceleration, fault location review, evaluation of static and dynamic slope stability, evaluation of liquefaction potential, and development of dynamic earth pressures for rigid, below-grade walls. 
Photo courtesy of Los Alamos National Laboratory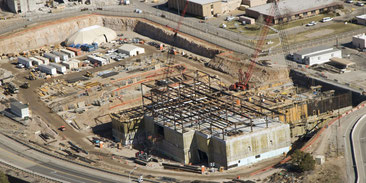 For over ten years (2002-2012), Mr. North was the Chief Geotechnical Engineer and Geotechnical Engineer of Record on this critical, special nuclear materials (SNM) project that received national attention.  This NNSA project was performed in accordance with an NQA-1 quality program and received oversight by the Defense Nuclear Facilities Safety Board (DNFSB).  See companion project description for RLUOB presented earlier on this page.
Photo courtesy of Jacobs' and NMDOT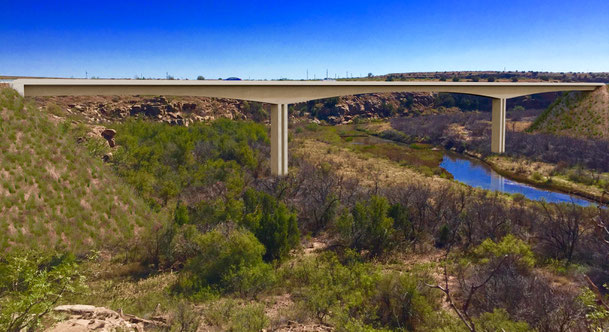 In 2016, responding to an on-call task-order for the New Mexico Department of Transportation (NMDOT), Mr. North served as advisor and senior geotechnical reviewer for this 3-span bridge over the Canadian River that upgrades a trucking corridor from Chicago to El Paso.  The new bridge is New Mexico's first cast-in-place segmental bridge and first segmental construction since the Albuquerque Big I Project (I-25 and I-40 Interchange).  The bridge is over 700 feet in length along a constant horizontal curve with a center span length of approximately 325 feet and terminal spans of approximately 200 feet each.  To support the heavy loads at both piers and both abutments, the bridge will be founded on large diameter, cast-in-place drilled shafts extending into bedrock. 
By ENERGY.GOV (Hanford WTP Construction) [Public domain], via Wikimedia Commons
Mr. North, served as the Site Manager/Engineer of Record for subcontracted construction materials testing services at this DOE nuclear waste vitrification and immobilization project at the former Cold War production facility adjacent to the Columbia River in southeastern Washington.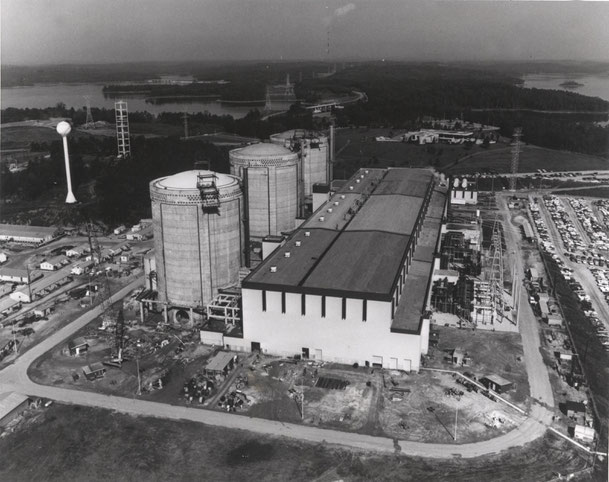 As part of an on-site team, Mr. North performed walkdown surveys, inspection, and review of existing anchorage systems of safety-related, safe-shutdown equipment associated with the operation of these two nuclear power plants.  The Nuclear Regulatory Commission (NRC) had ordered the beyond-design basis reevaluation of the entire US nuclear fleet following the 2011 Fukashima nuclear accident.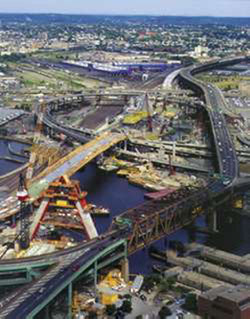 Mr. North served as the Chief Geotechnical Engineer for the design of this section of the depressed artery adjacent to famous Boston landmarks (including Haymarket, Faneuil Hall, and the original Boston Garden).  Project required special utility corridors to minimize interruption of utility service and reduce impacts to mainline tunnel construction. Project included design of ten separate, full-depth sections of the mainline tunnel Soldier Pile Tremie Concrete (SPTC) walls to permit utility crossing of tunnel right-of-way. Challenging geotechnical conditions, including deep deposits of Boston Blue Clay, and soft organic silts, required special consideration for design and construction of these SPTC walls and protection of adjacent historic buildings. Mr. North performed sequential excavation and bracing analysis of SPTC walls using FEM program MICROSOILSTRUCT to generate bending moments for overall design of SPTC wall reinforcing.

Mr. North was the senior project engineer for geotechnical investigation and design services. Project included enlarging the existing roadway from 2 to 4 lanes over approximately 120 miles, and included widening of 7 bridges, extensive roadway embankment cuts and fills, and numerous drainage structures.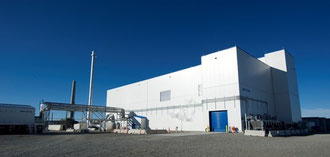 As capture manager and Chief Geotechnical Engineer, Mr. North was responsible for geotechnical investigation and design for this nuclear waste treatment facility within the Idaho Nuclear Technology and Engineering Center.  Responsibilities included the development of characterization program in this complex alluvial and volcanic geology that was compounded by radiological contamination.  All work was performed in accordance with NQA-1 quality requirements. 
Mr. North was the Chief Geotechnical Engineer and Geotechnical Engineer of Record on this nuclear, waste-water handling and treatment facility project performed under an NQA-1 program.